Meet Co-founder: Michael (Mike) McSweeney
Business: SoundSmith a music tech company specialising in influencer marketing for musicians.
In a previous case study we met David Hartley, who co-founded SoundSmith, a creator marketplace that is overhauling traditional avenues for indie music promotion, and who was one of the recipients of 2022's Lisa Ring and Family Scholarships. Here we meet one of his two business partners, Mike McSweeney. Mike, David and technical co-founder Gajan Nagaraj started SoundSmith as the pandemic took hold.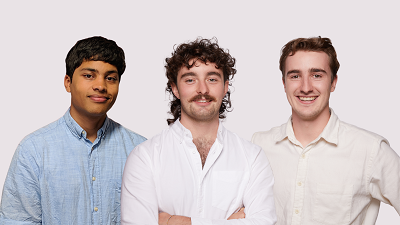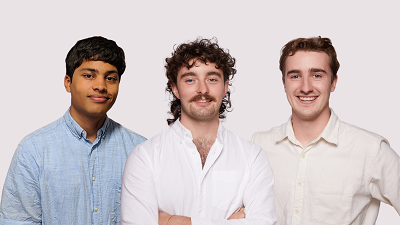 Photo: Gajan Nagaraj, Michael McSweeney and David Hartley, Co-founders of SoundSmith.
Photo by Will Linstead
Mike's Story
In early 2020, just as COVID-19 was changing the world, Mike McSweeney joined up with his friend David Hartley to nut out a business idea that tapped into a zeitgeist around the possibilities of social media exposure.
'David had the idea and he floated it to me. He just said: "Would you be interested in working on something like this?" and I said "Yep!"'
The idea, it would turn out, was just right for a time in which we would be glued to screens, stuck at home and watching a music industry struggle to find ways to get an audience – a business that would connect musicians looking to promote their music with influencers looking for music for their content.
The timing of pandemic events was good for other reasons, as Mike explains:
'It meant we could work on it more. We both worked in the same restaurant, David and I, and as soon as the pandemic hit we couldn't work, but we were still getting money from the government, so we had the time. That was pretty handy. We thought Oh, well. We can't do anything else, we'll just do this, then!'
Validating the idea
Sensibly, the two took a cautious approach, testing the waters first:
'We validated [the business idea] and we ran a campaign – we started with no money. We didn't charge anyone for the first one, so that was a lot of man hours and a lot of work for not much, and it kind of proved the idea that people wanted it. But it also showed us there were a lot of things wrong with how people were currently doing what we were looking to do.'
And that first campaign proved a winner: 'David knew a band and he was like: "Look, if you let us do this for free, you know, you get free exposure;" and they said, "Okay!" So at the end of that they forwarded us to their label, who gave us a couple of grand to do more. That was a nice way to end our validation period, to actually get some money.'
Sourcing the skills
It was at that point that Mike and David got serious and brought in third co-founder Gajan. He explains: 'David went on exchange to UCLA and Gajan was his roommate. They shared a tiny little room. I went on holiday and slept on their floor. We met in 2019. Gajan is the CTO – everything tech. He built it from the ground up; it's not through a third site. It's all from code.'
With David having a general music and sales know-how, Mike's Bachelor of Marketing and Gajan's tech experience, they each put in their ideas, from which Gajan built a platform, which had a soft launch in around February 2021.
The benefits of networking
While the three achieved an incredible amount for their new business in strange and difficult circumstances, now that the world has begun to open up again Mike says he is realising some of the limitations there have been to only doing business online: 'We are really proud we've done this all virtually, especially with our co-founder [Gajan, who lives and works in San Jose, California], but we went to a tech and culture conference in March (2022) in Sydney and we met a bunch of people, made networks – it's so much easier in person. We still hadn't seen Gajan since we started any of this, which is crazy.'
Mike's co-founder David received one of the 2022 Lisa Ring and Family Scholarships, which he has used to assist the growth of SoundSmith. 'It's amazing,' says Mike. 'The mentoring allocation has given us the opportunity to do things like go to the conference in Sydney.'
Mike can also work with David in the StartSpace Loft coworking space David received access to through the scholarship: 'David and I live together, and we are in each other's faces, working, cooking dinner, watching a movie together. Now we get to separate that a bit with an office so that's been a bonus. It makes it a bit more professional, too. I was taking calls on my bed before, because I don't have a desk.'
Lessons to share:
Mike has some key lessons he'd pass on to other new business founders:
'Validate the idea. That was key for us. This was our first venture and we were learning on the way. Someone advised us to first make sure the idea works, that people want the idea – luckily they did. There were a lot of lessons we learned along the way. If we'd gone straight to building the website we wouldn't have known all those pitfalls.'
'Be prepared to give things a go. David's dad sometimes advises us, but for the most part it was just giving it a crack and finding out what doesn't work and what does work.'
'Make sure your mental health is taken care of. It was good for us because we live together so we could help each other if one of us was freaking out. Have some kind of system in place where you're not festering in your own paranoia…because you can feel a lot of doubt and destructive thoughts when you are taking a leap like this.'
Mike and David finally had the opportunity to catch up with Gajan in person in California when they attended Vidcon in June 2022. 
Visit the SoundSmith website to find out more about what they do.
Curious to know more about StartSpace Membership? Find out here.