Meet Co-founder: David Hartley
Business: SoundSmith a music tech company specialising in influencer marketing for musicians.
David was awarded a Lisa Ring and Family Scholarship, 2022
In this case study series, we meet StartSpace members, learn the story of their business journey so far, and find out what they have gained from being part of StartSpace.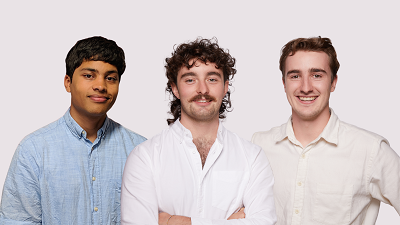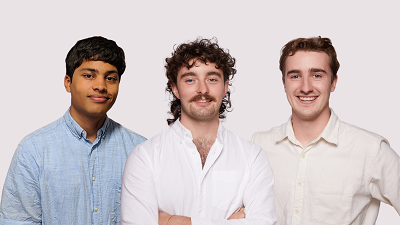 Photo: Gajan Nagaraj, Michael McSweeney and David Hartley, Co-founders of SoundSmith.
Photo by Will Linstead
David's story
David Hartley co-founded SoundSmith, a creator marketplace that is overhauling traditional avenues for indie music promotion, and which was one of the recipients of 2022's Lisa Ring and Family Scholarships. The business leverages his knowledge from time working at a digital distributor, and the particular skillsets of his partners Mike McSweeney and technical co-founder Gajan Nagaraj.
David explains that SoundSmith leverages an opportunity that he identified for indie musicians to gain exposure, by connecting musicians looking to promote their music with influencers who create content with their music:
'The music industry has very few promotional tools for indie artists – it's mostly limited to blogging and playlist pitching. Working with influencers is becoming a vital way to get your music heard. But there is a lot of work that goes into working with influencers for your music, from finding the influencers, emailing them, waiting to hear back, negotiating a price, etc. It's very manual for the artist. To solve this, we built SoundSmith to seamlessly connect the two parties, adding in tools like content verification and campaign reporting to add value for the artist.
'On one side, we have the influencers who sign up and get sent invitations to promote music, and on the other we have artists who sign up and can invite influencers to promote their music. If you've ever seen a dance on TikTok to a song, we may have helped connect the song with the influencer.'
The idea
The idea for SoundSmith came to David serendipitously – he saw a problem, and at the same time he recognised an emerging solution:
'I was working at a digital distributor – a distributor is a company like Tunecore which helps independent artists (artists not represented by a label) get their music onto streaming services like Spotify, Apple Music and TikTok. I noticed the need for more marketing tools, and it just so happened a few months later TikTok really started taking off and I noticed artists' songs were blowing up on the platform when their music was being used by creators. But there wasn't a scaleable solution to connect artists and the influencers – and that's where SoundSmith was born.'
Plugging the skills gap
David had a good understanding of the music industry and the ins and outs of what it was like to be an indie artist, as well as the relationships needed to bring the product to key customers. He also had a vision for the company, product-design-wise. But other aspects of his skills he needed to develop:
'I had less experience working with influencers or how to manage campaigns, so that's something I definitely had to learn by doing along the way both in a manual and in a scalable way. My co-founder Mike and I had to learn this together, as we managed the campaigns. From a business standpoint, incorporation of a company and basic accounting were also key skills that I learnt along the process, as well as formalising a sales process.
'I had to seek out a technical co-founder to really get the product off the ground. I was fortunate enough that Gajan was a good friend and my roommate at college. We had always wanted to build something together in music and this was the opportunity to do so.'
Scaling and funding
While David acknowledges that SoundSmith is lucky to have three dedicated partners who work hard to build the business in new and innovative ways, he says there have been two key challenges for them: scaling the business and funding it.
'As we are a marketplace, we need to bring both the supply and demand; the artists and the influencers. We've implemented some key functions to scale both sides and it has been helping us grow.
As for funding, getting a business started without working capital is tricky:
'Given that we run lean, we always have to think on our feet about how to grow the business. To some degree I think it can give us an edge: it means a lot of the time we have to think out of the box. On the other hand, ideas can be limited by a lack of cash.'
And this is one of the ways the Lisa Ring and Family scholarship – which David found out about through being a StartSpace member – will directly benefit them. David explains:
'The seed funding has provided me the opportunity to go all in on SoundSmith. And having access to the StartSpace loft has provided me a place to call home while building SoundSmith. It's a great space that has really helped me to be more productive. Having access to opportunities like conferences, or my mentor, Olga, has been crucial in managing my own stress, planning how the business will move forward and enabling me to grow my leadership skills. I'm very grateful for the opportunity.'
Lessons to share
David recognises that the knowledge that has been shared with him has been invaluable and, paying it forward, he has these tips to share with others:
'Before building anything, find your first paying customer to validate your idea. If you can get someone to pay for the problem you are solving then you've identified a market. Before we built any of the technology for SoundSmith we ran a variety of manual campaigns to validate that people were interested in paying for this service.
'Talk to the people you are building the product for. The more conversations you are having the more you can identify what their actual problems are, which may be different to the problem you were originally trying to solve.
'Focus on your mental health and look after yourself. Starting a business is a wild ride. You can get so consumed by what you're trying to achieve. Having a network around you to support you is key.
'Pace yourself. Starting a business is a marathon, not a sprint.'
Visit the website to find out more about SoundSmith.
Curious to know more about StartSpace Membership? Find out here.