Meet Founder: Anna Taylor
Business: Podcard – personalised podcasts.
In this case study, we meet one of the recipients of the 2022 Lisa Ring and Family Scholarships, learn the story of their business journeys so far, and find out what they have gained from being part of StartSpace and receiving a scholarship.
Above: profile photo of Anna Taylor. 
Photo by Carmen Zammit.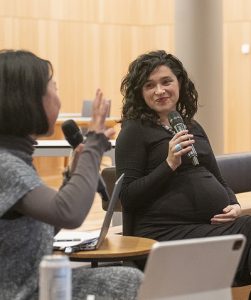 Picture above: Anna Taylor speaking to Diletta Legowo on the panel at the Inventions Changing Our World event during Melbourne Knowledge Week 2022. Photo by Carmen Zammit. 
About Anna
Anna Taylor founded Podcard, a digital media company that makes personalised podcasts from user-generated audio content, enabling people to easily make podcasts from messages recorded by their friends, family, and colleagues.
The business explained
Podcard is a business that has at its core a mission to bring connection. Anna explains: 'We help people bring their communities together through the act of shared storytelling.'
While the idea for Podcard came about in 2019, it's an ethos that certainly fits pandemic times. For Anna, it evolved from quite a personal need.
'I came up with the idea for Podcard back in 2019, after searching in vain for a meaningful way to mark my grandmother's 100th birthday. I'm an audio producer by training, so when thinking of a way to mark the occasion, my mind went straight to podcasting. I asked everyone in my extended family to record an audio story about my grandmother on their phones, then edited the stories together with music to create the first ever podcard. It turned out so well, I started getting orders from friends and turned Podcard into a business soon after.
Skills new and old
With her background in audio production, Anna was already skilled up to make her product – but everything else about starting a business was new to her.
'Registering a business name, buying a domain, building a website and using no-code technology to form a tech stack – I'd never done any of that before! I also didn't have any experience with branding, marketing or sales. In the early days, I reached out to a bunch of acquaintances who worked in the start-up space to ask for their advice, but to be honest most of it was just following my intuition and teaching myself by watching videos on Youtube and reading thousands of internet threads.'
Challenges along the way
For Anna, one of the challenges has been around situating a completely innovative product in the marketplace. She explains: 'Personalised podcasts made from user-generated audio content didn't exist before Podcard – we've created an entirely new product! So our biggest challenge has simply been in communicating to potential customers what the product is and how it can deliver value for them. As podcasting becomes more mainstream, this task is getting easier.'
The benefits of the scholarship opportunity
Anna heard about the Lisa Ring and Family Scholarship via the Startmate Founders Fellowship, which she completed in 2021. Being one of the recipients has boosted Podcard in multiple ways, from resourcing to goal-setting – and, significantly, to giving Anna a 'room of her own', as a mum of young kids.
'The main priority for us is finding a production model that will enable us to scale, so we've used the money from the scholarship to develop some new technology to streamline our production,' says Anna.
'As a solo founder, I've also found the mentoring and professional development opportunities that come with the scholarship super valuable. Weekly sessions with Olga Hogan from Renaissance Advantage and Fiona Killackey from My Daily Business Coach have helped me clarify my goals and reframe what success looks like for me as a founder.
'Finally, having a dedicated space to work at the beautiful State Library Victoria has been everything, especially as a mum who is used to working at home among the chaos of small children!'
Anna's advice
'Find something you're passionate about and truly believe in – it's too hard, otherwise!'
Visit the Podcard website to find out more about what they do.
Curious to know more about StartSpace Membership? Find out here.