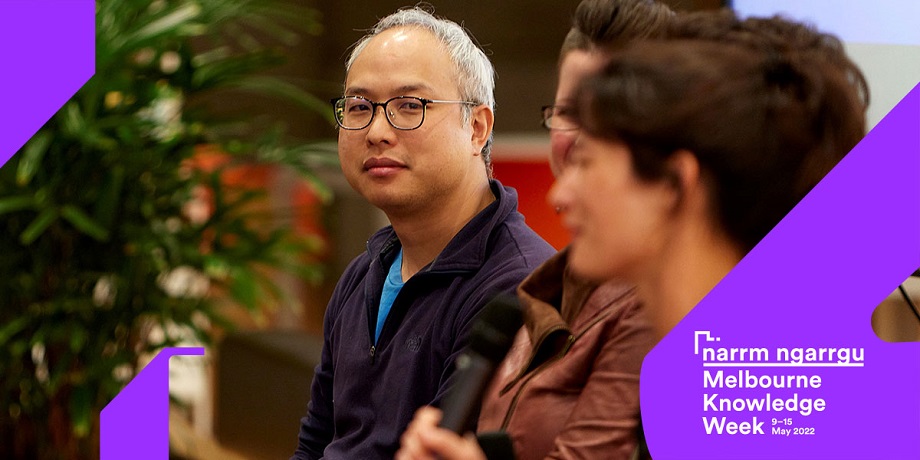 Join us for a panel discussion to hear from founders who are impacting our changing world through their product or service innovation.
This will be an inclusive conversation where participants will have the opportunity to ask questions and learn more about the exciting inventions that will shape our future.
This event is part of narrm ngarrgu | Melbourne Knowledge Week, 9 May – 15 May 2022, proudly presented by the City of Melbourne, and the May feature of StartSpace and State Library Victoria's Inventors and Innovators series, which offers a fascinating schedule of panel discussions with game-changing founders from a diverse mix of major industries.
Event Speakers
Anna Frey Taylor, Founder of Podcard and a current Lisa Ring and Family Scholar.
Huy Nguyen, CEO and Founder, Enabler Interactive.
Moderated by: Diletta Legowo, Senior Social Designer and The Australian Centre for Social Innovation.
Event details
Date: Thursday 12 May
Time: 5.30pm-7.00pm
Venue: StartSpace, held within the Ideas Quarter, State Library Victoria
Please register to reserve your place at the event. Tickets are via Melbourne Knowledge Week.
This event is part of narrm ngarrgu | Melbourne Knowledge Week, 9 May – 15 May 2022, proudly presented by the City of Melbourne.
About Melbourne Knowledge Week
Melbourne Knowledge Week (MKW) is City of Melbourne's annual festival of ideas for a smart and innovative city, where we engage all Melburnians to explore, discuss and ideate our future together.
About Anna
Anna Frey Taylor is an audio producer and the founder of Podcard, a business dedicated to storytelling and human connection. Podcard makes personalised podcasts from audio messages recorded by friends, family and colleagues for milestone occasions. Prior to Podcard, Anna studied art history, made podcasts for the ABC, and worked in art museums across Australia and Europe. She lives in Melbourne with her husband and her 3-year-old daughter.
About Huy
Huy Nguyen is a humanitarian engineer, educator and social entrepreneur. Contracting polio as an infant in Vietnam, his own experience with disability has given him a unique mindset in addressing real-world social challenges. Huy knows that we need to move beyond charity models and drive change through profit for-purpose businesses.
Huy's passion is fueled by lived experience dealing with disadvantage and negative attitudes towards disability. His vision is for an inclusive community which is accessible to everyone and for people with disability and the elderly to have the quality support, services and care they need to participate in society and lead fulfilling and meaningful lives.
Huy has dedicated his professional career to social change and has led several projects and enterprises throughout the Asia-Pacific region. His current focus is his company Enabler (www.enablerinteractive.com), a 3D simulation training platform. Enabler uses mobile gaming technology to build the capacity of disability support workers and people with disability in assisted disability employment.
Huy's work has been recognised with multiple awards and programs, including:
Australia Vietnam Youth Leadership Dialogue (2019)
Myer Innovation Fellow (2018)
AMP Tomorrow Fund Recipient (2017)
ACT Young Australian of the Year (2014)
Australian National University Young Alumnus of the Year (2014)
National Disability Awards – Emerging Leaders (2013)
Pride of Australia Medal for Fair Go (2013)
ACT Chief Minister's Award for Emerging Leaders (2013)
Winner of the Unleashed Program social enterprise pitch (2014)
Young Social Pioneer, Foundation for Young Australians (2013)
About Diletta
Through her practice in brand, design, and creative production, Diletta Legowo works to expand the impact and influence of people doing good things. With creativity and collective wellbeing at the centre of her work (as a means, end, and way of life), Diletta loves working in environments of rapid change and innovation where problems, big or small, are approached with agility and community-mindedness. Her portfolio spans across the higher education sector, government, knowledge and creative economy, non-profit and startups.
She most recently worked as StartSpace Program Coordinator at State Library Victoria, and now is a Senior Social Designer at The Australian Centre for Social Innovation. She also runs an independent design practice, and is a certified yoga teacher. Diletta also likes quotes; her favourite, which guides her almost every day, is "we're all just walking each other home" – Ram Dass.