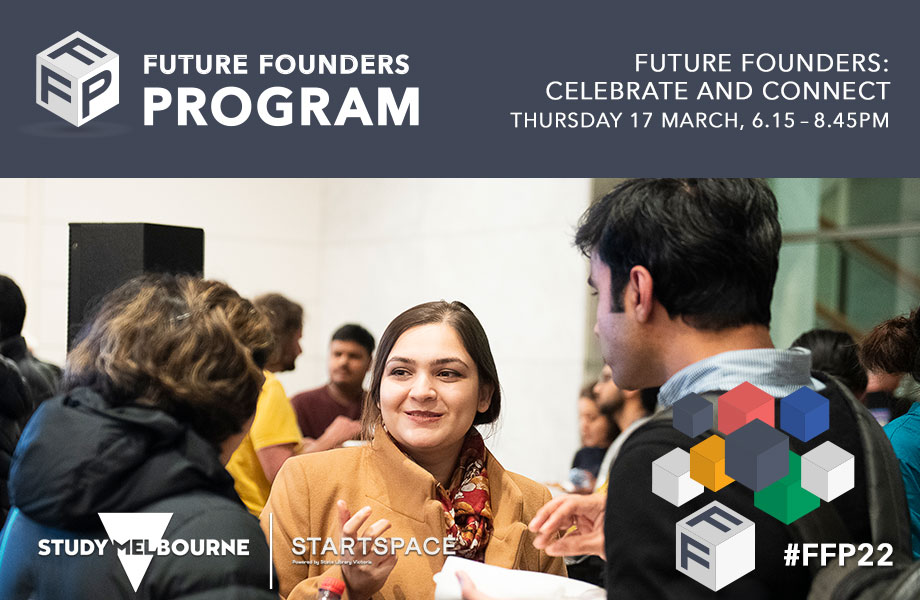 You are invited to join the celebrations for the Future Founders Program 2021-2022.
From the teams at Study Melbourne and StartSpace, the Future Founders Program 2021-2022 has welcomed participation from over 800 international students and budding entrepreneurs from across the world in the last year.
From roadshows, the festival, pitch competition, hackathon, bootcamps and venture scholarships, we would like to come together to acknowledge and celebrate everyone who engaged in the activities and supported this incredible program.
Sherry-Rose Bih Watts, Founder of WomanGirl will be our welcoming MC and host for the evening. Pamela Yip and Yi Xuan Ong, Co-Founders of Bubble Tea Club are our special guest speakers, who will share their founder journey in conversation with moderator Nathaniel Diong, Founder & CEO of Future Minds Network.
During the event we will be announcing the 2022 Future Founders Venture Scholars and acknowledging the dedication and hard work of the bootcamp participants.
You will have the opportunity to make new connections across the startup and international student communities, with icebreakers provided to experiment with.
We are excited to have DJ Jodilly Pendre playing tunes across the evening. Refreshments and nibbles will be served throughout with the opportunity to purchase alcoholic drinks from the bar.
Don't miss out on this opportunity to connect, network and celebrate with the local entrepreneurial community and reflect on the emerging innovation of future founders in Victoria.
Date: Thursday 17 March
Time: 6.15pm to 8.45pm
Venue: Conversation Quarter, State Library Victoria.
Dress: Smart Casual
Please note: this event is adults only 18+.
Nibbles and non-alcoholic drinks will be provided at the event.
Alcoholic drinks will be available to purchase from the bar.
Please register via Eventbrite to reserve your ticket for the celebration, for Covid-19 safety and catering management purposes.