Photo pictured above: StartSpace community networking after the Inventors & Innovators: Fresh Ideas panel talk 14 April 2022. Photo by Carmen Zammit
StartSpace, State Library Victoria's early stage business support service, hit an exciting milestone in May, welcoming its 1000th new member.
The service, initially funded by the Christine Christian Foundation, was designed and included in State Library Victoria's Vision 2020 major refurbishment project after research showed 14% of visitors to the Library were working on business ideas.
It offers free programs, scholarships and access to coworking space for Victorian founders over 18 who are working on a business idea.
Bridging the gaps
The startup ecosystem in Victoria has some historic equality gaps, and StartSpace looks to bridge these, following the Library's 'access to all' approach to service.
While startups are valued at $91 billion AUD (LaunchVic 2022), funding access is skewed toward male Anglo founders:
Only 1 in 5 Australian startups with a non-Anglo founder accessing funding in 2020 (Rampersand 2020).
Only 20% of funding for startups was awarded to women in Victoria (Startup Daily 2021), and only 11% across Australia (Rampersand 2020) in 2019.
Boosting founders
The entrepreneur ecosystem also suffers gaps in early-stage financial support. StartSpace's Community Lead Aun Ngo explains:
'StartSpace membership aims to fill the gap of support that is lacking in the ecosystem for new founders at the start of their journey, and to help nurture them through their early milestones prior to revenue stage, where typically more opportunities become available elsewhere. The free support helps foster the innovative solutions being developed in our community, and plays a significant part in Victoria's social, environmental and economic future.'
Among the businesses being developed are a careers support platform for international students, a renewable energy storage solution, medication-free pain relief products, dance and movement for wellbeing courses and smart labels for reusable packaging.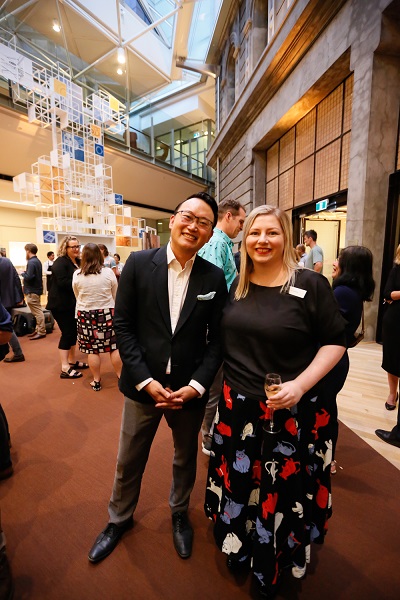 Aun Ngo and Anna Burkey at the StartSpace opening event 12 March 2020. Photo by Francine Schaepper.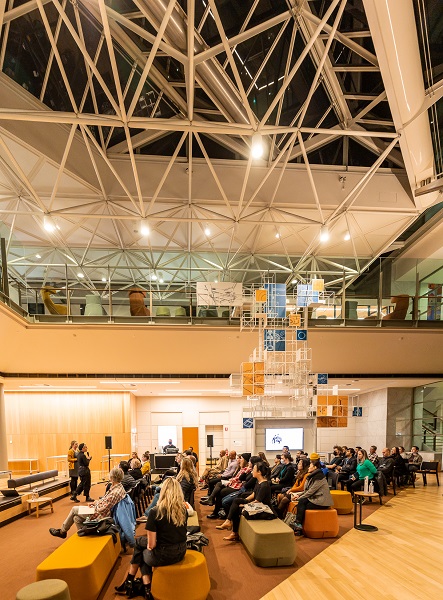 Business Essentials Workshop with Kaylene Langford held in StartSpace on 29 June 2022. Photo by Gerard Assi.
A diverse and growing community
StartSpace is making an impact on the diversity of the Victorian emerging entrepreneur community: people from a CALD background make up 46% of its members, and 40% identify as female or non-binary. 
Aun Ngo (pictured above), who has ushered in the majority of the new founders in the more than 350 inductions since opening, is excited to have hit the milestone:
'It's great to meet so many engaged and inspiring new founders from all different backgrounds and circumstances who are working on creative solutions to society's problems. I feel very proud to be part of the team at State Library Victoria providing free support to this diverse and growing community.'
Making an impact
'StartSpace has provided us with the facilities and intellectual resources to develop this business idea. We have a cozy, bright and safe space with high-speed Internet. We also have access to an online platform with documents/talks to acquire theoretical knowledge, and the possibility of expanding our network with other entrepreneurs with whom we can swap experiences.' Rodrigo (Rod) Quezada, founder of Particular CreaTech Studio, which specialises in Augmented Reality (AR) Marketing.
'As a solo founder, I've also found the mentoring and professional development opportunities that come with the scholarship super valuable. Weekly sessions helped me clarify my goals and reframe what success looks like for me as a founder. Having a dedicated space to work at the beautiful State Library Victoria has been everything, especially as a mum who is used to working at home among the chaos of small children!' Former Lisa Ring and Family scholarship beneficiary Anna Taylor, founder of Podcard, which creates personalised podcasts.  
StartSpace welcomes new members. If you or someone you know is working on a new business idea or side hustle, find out more and apply for membership. 
More information on some businesses StartSpace has supported:
Aptonow: Empowering the future of higher education through data and technology.
Crazy Ideas College: Building the capacity of young people to lead change … in their own lives, in their schools and in their communities.
Don't Move Until You See It: Teaching people to master chess with their eyes closed.
Green Gravity: Aiming to become the world's lowest-cost and most sustainable provider of energy storage technology.
Hope & Motion: Empowering, uplifting dance/movement sessions, informed by trauma-informed somatic practices and psychology.
Inspiring Chats: Empowering meaningful connections, one chat at a time.
Particular: Using creativity and technology (CreaTech) to build innovative digital assets focused on Augmented Reality.
Pearlii: Improving oral health around the globe.
Podcard: Personalising podcasts for your friends, family and colleagues.
Shapes and Sounds: Destigmatising Asian Australian Mental Health
Soundsmith: Connecting your music with viral creators.
Stint: Helping international students build careers in Australia and employers hire the best international student talent.
TENSible: Making chronic back pain management more accessible.
The Archive: Capturing the life stories of everyday people through professional video interviews.