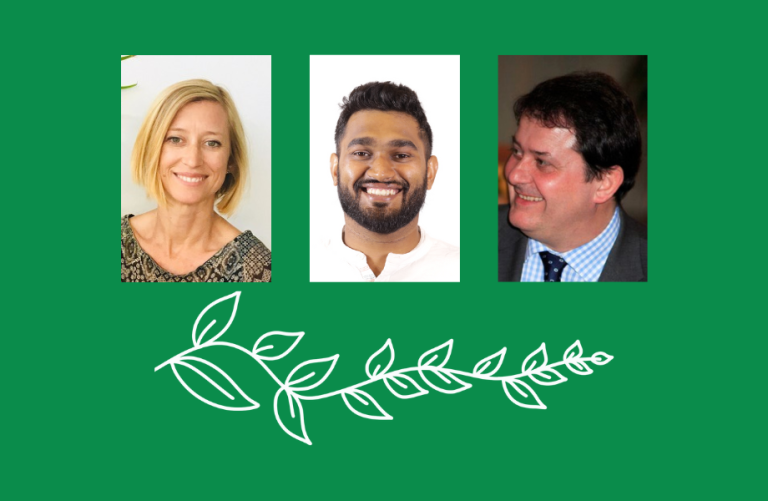 Join in online to hear a thoughtful panel discussion with founders focused on solving problems where sustainability and protecting the environment are central to their business purpose.
Guests on the panel for Inventors and Innovators: Environment and Sustainability share a drive to make a difference. Hear about their innovative solutions, progress achieved, motivations and their experience as founders.
The panel features:
Amy Carter-James, Co-founder of Raaise – specialising in funding and support for environmentally focused startups.
Shimroth John Thomas, Founder of Phycoforms – biodegradable architectural products which are derived from seaweed and other waste resources and Co-founder of Untwine – a solution aimed at eliminating single-use packaging waste in the food and beverage industries.
Roberto Daniele, Founder of Changemakers Lab – supporting social enterprise startups, and Senior Programmer at StartSpace.
Event Details:
Date: Thursday 18 August
Time: 5.30pm-6.45pm
Venue: Online
The audience will be given an opportunity to ask questions during the event.
Bookings are essential, please register to confirm your place.
Please note this is an online event. A link to join the event will be sent to you ahead of time.
About Amy
Amy is a serial entrepreneur, on a mission to get climate startups funded and put the brakes on the climate emergency.
Amy's first venture was in Mozambique, at the age of 22, harnessing tourism for sustainable development. She went on to be a leader in tourism, pulling the industry in a more sustainable and regenerative direction.
She has since worked around the world, developing products that tackle the UN's Global Sustainable Development Goals (SDGs). But when communities she worked with in Mozambique were hit by an unprecedented cyclone and fossil-fuelled civil war, she redirected her focus to climate.
In 2020, she pulled together a crack team and co-founded Raaise–the platform powering climate startups-helping founders raise funds and scale quickly and efficiently. She is also the co-host of the podcast Startups Will Save Us and continues to oversee Nema Foundation, supporting displaced women and children in Mozambique.
About Shimroth
Shimroth is a cross-disciplinary designer whose practice sits at the intersection of architecture, photography, system, and climate.
In 2017, he co-founded Create Studio, a Bangalore-based multi-disciplinary design studio working in the architecture, photography, and UI/UX space.
Shimroth completed his master's from RMIT's School of Design and is now working on developing innovative biomaterials to tackle the climate crisis.
In 2020, he cofounded Untwine, a unique material/product/service/system solution aimed at eliminating single-use packaging waste in the food and beverage industries.
In 2021, he founded Phycoforms, to tackle the unsustainability of the construction industry by tapping into Australia's rapidly emerging seaweed industry. Using circular economy thinking, the Phycoforms product range consists of 100% biodegradable architectural products which are derived from the residues of harvested brown seaweed and other waste resources.
About Roberto
Roberto is the Senior Programmer for StartSpace, and the Founder and Director of Changemakers' Lab, a consultancy specialising in supporting social enterprise startups and the creation of place based social enterprise ecosystems. From 2016 to 2019 with his partner Marita, he cycled from Oxford (UK) to Melbourne (Australia) pedalling for 35,000km through 23 countries and working on social entrepreneurship projects along the way.
He is the Co-Founder and Co-Chair of the Australasian Chapter of Catalyst2030 a global organisation of social entrepreneurs committed to a cooperative approach to systems change to achieve the UN Sustainable Development Goals (SDGs) by 2030.
About the Inventors and Innovators event series
Hear from founders who are shaking up our major industries with cutting edge ideas and innovative solutions in this regular event series.
Each session focuses on a different industry and features inspiring panel discussions with innovative thinkers who are making real change with their businesses.