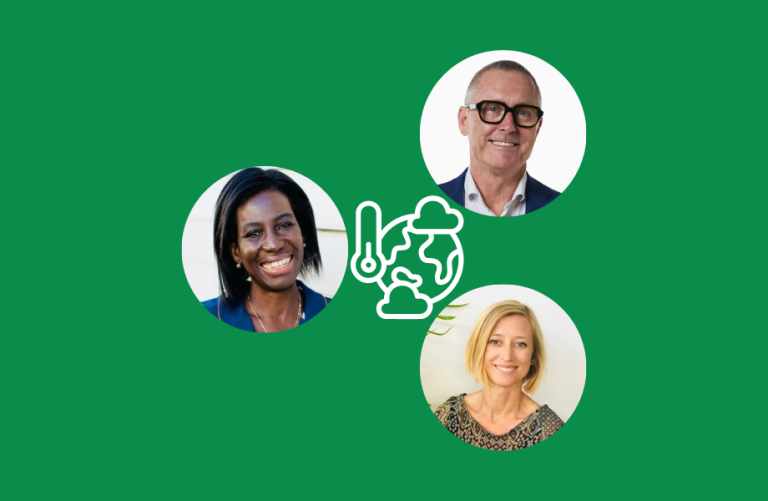 Join us online to hear a thoughtful panel discussion with founders focused on solving problems to help our planet thrive, where profit for purpose is the focus of their ventures.
Guests on the panel for Inventors and Innovators: Environment & Climate Change share a drive to make a difference. Hear about their innovative solutions, progress achieved, motivations and their experience as founders.
The panel features:
Prisca Ongonga-Daehn, Founder and CEO of Baresop – environmentally friendly powder-to-soap waterless personal care products.
Stephen McGurk, CEO of Airbridge – revolutionary technology that transforms and repurposes carbon emissions before they enter the atmosphere.
Amy Carter-James, Co-founder of Raaise (event moderator)- specialising in funding and support for environmentally focused startups and Co-host of the podcast Startups Will Save Us.
Date: Thursday 29 September
Time: 5.30pm-7.00pm
Venue: Online via YouTube
The audience will be given an opportunity to ask questions during the event.
Bookings are essential, please register to confirm your place.
Please note this is an online event. A link to stream the event will be sent to you ahead of time.
About Prisca
Prisca is a serial entrepreneur who is passionate about making a positive impact in the world. With over 15 years experience in managing successful companies, Prisca's passion very much remains on Product Development and company culture.
Prisca is the Founder & CEO of Baresop, a profit for purpose startup that has created a patented powder-to-soap waterless personal care product. Their mission is to make it easy for billions of people to eliminate single-use plastic from their bathrooms, and remove the unnecessary waste of shipping water around the world. Baresop believes personal care shouldn't just be good for the skin, but good for our planet!
Prisca recently collected the Emerging Business Award for Baresop in the SBE Australia 2022 Impact Awards.
About Stephen
With a highly successful background in corporate advisory, banking and treasury, Stephen has a passion for disruptive and innovative technologies. He leads Airbridge as CEO in its quest to help the planet and discover transparent, ethical and accountable stakeholder and investment partnerships.
Airbridge has developed revolutionary technology that transforms carbon emissions before they enter the atmosphere and repurposes them into valuable, essential global commodities. In short, they are eliminating carbon emissions from hard to abate industries and creating new Carbon Fed Supply Chains and accelerating us towards Net Zero.
Stephen was recently in Norway where Airbridge was an SME category finalist in the global ONS Foundation Awards.
About Amy
Amy is a serial entrepreneur, on a mission to get climate startups funded and put the brakes on the climate emergency.
Amy's first venture was in Mozambique, at the age of 22, harnessing tourism for sustainable development. She went on to be a leader in tourism, pulling the industry in a more sustainable and regenerative direction.
She has since worked around the world, developing products that tackle the UN's Global Sustainable Development Goals (SDGs). But when communities she worked with in Mozambique were hit by an unprecedented cyclone and fossil-fuelled civil war, she redirected her focus to climate.
In 2020, she pulled together a crack team and co-founded Raaise–the platform powering climate startups-helping founders raise funds and scale quickly and efficiently. She is also the co-host of the podcast Startups Will Save Us and continues to oversee Nema Foundation, supporting displaced women and children in Mozambique.