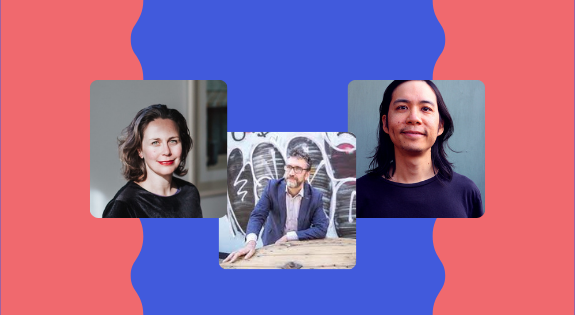 The creative industry brings joy and inspiration to society in a variety of forms, and it has been one of the hardest hit sectors through the pandemic. In this event you will hear from creative practitioners as they discuss innovation that is happening across the sector and the part it plays in entrepreneurship and business.
Dr Alan Nguyen, TV and theatre writer, director and designer and Tahli Corin, Co-Founder of Threshold and creator of immersive experiences will share their knowledge of the industry and the way it is changing. Alan and Tahli will be joined by event moderator George Dunford, Content Director of ArtsHub, looking to draw out as much insight from the guests as possible.
Event details
Join us for the panel discussion online. This event will be live streamed via YouTube, and audience members will be able to submit questions to the panel during the session via Slido.
Date: Thursday 11 November 2021
Time: 11.00am – 11.45am
Registration is essential.
About Dr Alan Nguyen
Dr Alan Nguyen is a writer, director and designer working in TV (SBS, ABC, NBCU, Disney, Princess, Matchbox, December) theatre (MTC) and multisensory interactive experiences (Australia Council for the Arts, EyeJack). Alan was a writer for the SBS miniseries 'Hungry Ghosts', nominated for AWGIE and AACTA awards in 2020. In 2021, he released the 360°/VR nature-documentary 'BeeScapes' and is currently working on 'Polyphonic Motions' and 'Melodic Motions', co-designing interactive, movement-based tools for artists with intellectual disabilities.
About Tahli Corin
Tahli Corin is an award-winning playwright, dramaturg, producer and Co-Founder of Threshold. Her work has been presented at Griffin Theatre Company, Belvoir (B Sharp) and Sydney Theatre Company. As a producer she has worked for Melbourne Fringe, Theatre Works, and produced Blak & Bright, Victorian Indigenous Literature Festival at the Wheeler Centre.
Threshold creates experiences that bring people together. From audio theatre experiences, to analogue treasure hunts, Threshold shares the delight and wonder of theatre with thousands of homes across the globe.
About the Inventors and Innovators series
Hear from founders who are shaking up our major industries with cutting edge ideas and innovative solutions to problems in this bi-monthly series, presented by StartSpace.   Each session focuses on a different industry and features inspiring panel discussions with innovative thinkers who are making real change with their businesses.