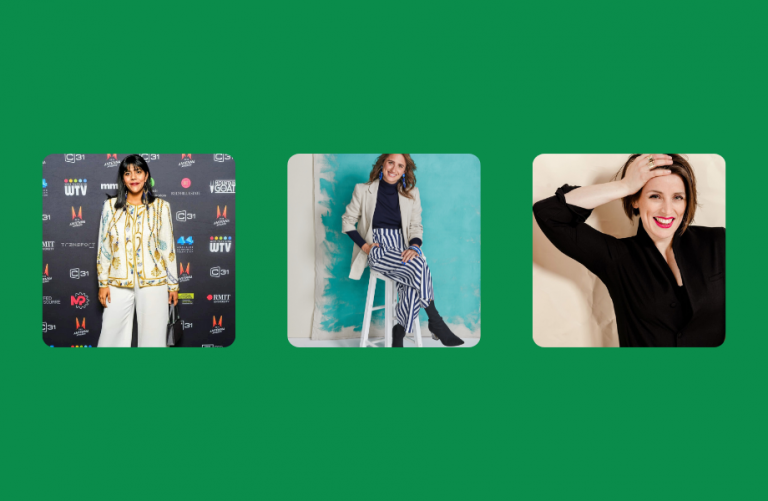 Come along to StartSpace on Thursday 10 March to hear from an inspirational panel of female business founders in honour of International Women's Day. The theme for this edition of the Inventors and Innovators series is Community and Culture and the panel features:
Rachel Service, CEO of Happiness Concierge who provide training, strategy and planning services for organisations to help maintain happy work cultures.
Sheree Rubenstein, Founder of One Roof, a community for female leaders and entrepreneurs.
Moderated by: Dilpreet Kaur Taggar, Founder of South Asian Today – a media startup for South Asian women and non-binary peoples.
Date: Thursday 10 March
Time: 5.30pm to 7.00pm
Venue: StartSpace ground floor, State Library Victoria.
Bookings are essential, please register to confirm your place.
This event will take place on-site at StartSpace. You can view the State Library of Victoria's COVID-safe Library information here.
About Dilpreet
Born and raised in India, Dilpreet is an independent journalist. In 2020 she launched South Asian Today, Australia's first media start-up for South Asian women and non-binary peoples. She continues to shape and work on anti-caste, progressive and feminist media diverse ways of storytelling. Find her work @southasiantoday across all social media channels or visit southasiantoday.com.au for more.
About Rachel
Rachel Service is the CEO of Happiness Concierge™ and the author of There Has To Be More: The Essential Guide to Personal Growth.
After experiencing an aha moment at a Beyonce concert (true story!), with $300 in her bank account, entrepreneur Rachel Service started Happiness Concierge™, the company empowering thousands of people across the globe.
Since then, she has saved companies millions by empowering their people, partnered with ASX listed companies, retail banks, universities and government departments and shifted the dial on workplace culture.
Rachel's award-winning approach to personal and professional growth has been featured in the BBC, Financial Review, Sydney Morning Herald and The Age. Her TED talk, 'How to Break Up With Your Public Identity', was internationally syndicated on the official TED website in 2020.
Rachel's first book, There Has To Be More: The Essential Guide to Personal Growth, offers Rachel's proven five-step framework with her real life case studies to personal growth that has empowered thousands of people across the globe.
Rachel's belief is when we create our own version of success, we take control of our life and work.
About Sheree
Sheree Rubinstein dedicates every waking moment to thinking about and pursuing her passion to elevate more women into positions of leadership and influence and level the playing field. Sheree is a corporate lawyer turned entrepreneur. Affectionately known as the 'Queen of Community,' Sheree is experienced in building businesses, raising capital, and mentoring women along their business journey.
Due to the Covid-19 pandemic, Sheree pivoted her business One Roof after 6 years from Australia's leading co-working operator for women to a digital membership for female leaders and entrepreneurs. In less than two years One Roof has on-boarded 1000 members Australia-wide. Sheree is a mum and expecting again in June this year. She is an Australian Financial Review 100 Women of Influence, a Telstra Business Women's Award Finalist, on the board of the Victorian Women's Trust and she is a regular public speaker on topics including women in business, leadership and entrepreneurship.
About the Inventors and Innovators event series
Hear from founders who are shaking up our major industries with cutting edge ideas and innovative solutions in this regular event series.
Each session focuses on a different industry and features inspiring panel discussions with innovative thinkers who are making real change with their businesses.