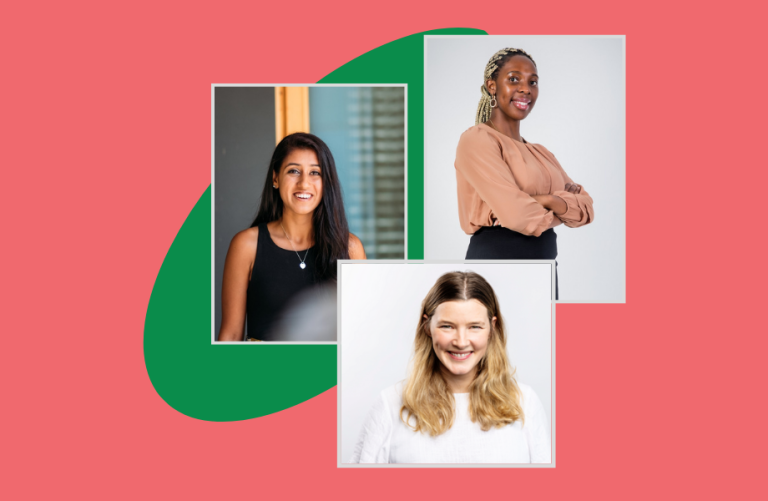 Come along to hear a thoughtful panel discussion focused on passion and purpose.
The panel guests for Inventors and Innovators: Business for Good each share a drive to make a difference by focusing their talents on sustainable practices. From social enterprises to sustainable laundry products, these founders have experience in turning their ideas into a meaningful positive impact.
Join this free event to hear about their ideas, motivations and their experience as founders.
The panel features:
Frankie Layton, CEO and Founder of The Dirt Company
Sakshi Thakur, CEO and Founder of Humanism
Sherry-Rose Bih Watts, Founder of WomanGirl
Date: Thursday 9 June
Time: 5.30-7.00pm
Location: StartSpace, held in the Ideas Quarter of State Library Victoria
The audience will be given an opportunity to ask questions to the panel.
Non-alcoholic refreshments will be served at this event.
Bookings are essential, please register for your free ticket to confirm your place.
About Frankie
Frankie Layton is the CEO and Founder of The Dirt Company, Australia's first ever completely circular packaging brand. The Dirt Company sells laundry products in thoughtfully designed glass dispenser bottles that are replenished using refill packs. The refill packs are sent back for sanitisation and reuse, effectively eliminating plastic waste from the wash cycle.
In the four years since the launch of The Dirt Company have amassed more than 60,000 direct customers, and with their help prevented more than 70 tonnes of plastic from being created. The idea has been featured in Smart Company, Broadsheet, 9 Honey, The Age, Sydney Morning Herald, Buzz Feed and The Guardian.
Frankie's passion for sustainability came early, Stewardessing on SuperYachts through her gap year. Throughout an 18-day Atlantic Crossing, Frankie became deeply troubled by the abundance of plastic waste that had made its way into a part of the world that was so remote to human traffic.
Following her university and a 7-year career working in Strategic Consulting, Frankie had the idea to tackle this waste by redesigning a packaging system for household products. The Dirt Company was officially in 2017, and recovered and reused about 40,000 pc of packaging per year.
About Sakshi
Sakshi Thakur is the founder and CEO of Humanism, a social enterprise that aspires to eliminate global poverty—one job at a time.
Founded in 2018, the initiative employs marginalised women in Pondicherry in South India to produce artisanal lanyards and organic cotton tote bags for Australian events and conferences.
Prior to this, Sakshi studied Biomedical Science and Commerce, worked at EY in Finance for a few years, then pursued further study with the Masters of Entrepreneurship at Melbourne Business School where she worked on her first tech startup.
To date, she's been able to raise up to $40,000 of equity-free seed funding and support, in her mission to create an equitable world that leaves no human behind.
About Sherry-Rose
Sherry-Rose is a purpose driven social entrepreneur, changemaker and public speaker. She is passionate about sustainable community development, diversity, women in leadership and the social, political, and economic empowerment of women and girls worldwide.
As a dedicated youth advocate, Sherry-Rose has served as:
Vice-chair on the Victorian Government's Youth Congress
Local ambassador and Youth Activist for Plan International Australia
Committee Member of the Victorian Multicultural Commissions (VMC) Multicultural Youth Network
Advisor on the Victorian Government's Rights Responsibilities and Consequences Advisory Group.
Internationally she has acted as a representative to the International Commonwealth Youth Parliament (CYP), the African Union Consultative Conference in China and an observer at The United Nations Consultative Status on Women Conference (CSW65).
As a consultant she works predominantly on collaborative projects related to young people, migrant and refugee communities and the empowerment of women. Utilising co-design methodology and intersectional feminist practice to bring about innovative solutions for complex social issues. Presently, she leads strategic partnerships and community growth nationally as the Community Builder at Women's Environmental Leadership Australia (WELA).
Outside of this she is a board member of Western Edge Youth Arts (WEYA) and co-design consultant with Centre for Multicultural Youth's (CMY) Youth Led Unit. She is also the founder of the social enterprise, WomanGirl – an organisation that seeks to empower diverse young women by creating greater access to opportunities for their personal and professional development.
Sherry-Rose seeks to challenge individuals and communities to become active collaborators towards sustainable community development and systems change. Her vision is to one day lead innovative global social impact projects. On her journey she aims to inspire other young women to aspire for more, live boldly and reach their full potential.
About the Inventors and Innovators event series
Hear from founders who are shaking up our major industries with cutting edge ideas and innovative solutions in this regular event series.
Each session focuses on a different industry and features inspiring panel discussions with innovative thinkers who are making real change with their businesses.