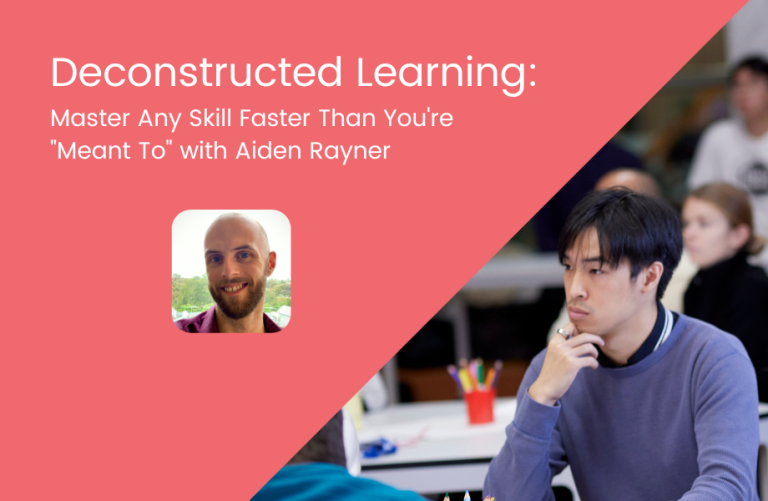 During this 90 minute workshop Aiden Rayner, founder of Don't Move Until You See It will take you through his method of deconstructed learning, enabling you to apply efficient learning techniques to improving new skills.
The Deconstructed Learning Method
Topics covered in the session will include:
Define what "learned" looks like for you.
Identify the major parts that make up a target skill
Identify the subskills that are relevant to your goal (including the Master Skills)
Order those skills in a way that makes sense for efficient learning
"Isolate and Intensify" those skills for rapid subskill acquisition
Create milestones to ensure you put in the time and keep yourself honest
The Workshop Structure
Part One: Presentation (approximately 30 minutes)
Aiden will introduce the topic of deconstructed learning by covering an overview of the history of the concept, how it works, the steps for deconstructing a skill and the process for rapid skill acquisition.
Part Two: Guided Workshop (approximately 60 minutes)
You will be guided through the process to create a deconstructed learning map for a skill of your own choosing. We recommend you have a specific skill in mind when you come along to get the most out of the workshop.
During the session you will be invited to research your chosen skill using your own device as part of the deconstruction process, with the aim to walk away with an understanding of the process of creating a map for deconstructing a skill ready for rapid learning.
Deconstructed Learning Workshop
Date: Thursday 23 February
Time: 5.30pm – 7.00pm
Venue: StartSpace
Spaces are limited for this workshop, please register to secure your place.
This workshop is open to attend and will be beneficial to anyone looking to learn or improve a skill.
Please note: Auslan interpretation is available on request for StartSpace events. Our staff require two weeks to plan and book this service. If you would like to request Auslan Interpretation, please let us know by Thursday 9 February when you register for the event, or email the team to request it: [email protected]
About Aiden Rayner
Aiden is an expert on deconstructed learning methods, an unorthodox set of techniques to rapidly acquire any skill. He is the founder of Don't Move Until You See It, a training system for Chess improvement based on his learning methodology. Despite Aiden only picking up Chess during the pandemic, world-class Chess personalities have called his methods the "missing piece in Chess instruction", and Chess masters are adding them to their own tournament preparation. He is passionate that ongoing learning is one of the keys to living an energising, exciting, and fulfilling life.