Design, build and pitch your project

Future Founders Hackathon

The Future Founders 'Hack for Happiness' Hackathon was held across the weekend of 28-29 August, online, welcoming over 150 student and graduate participants.

Curious about entrepreneurship but not sure if it's for you? The Hackathon offered the chance to find out. 

Students joined teams of up to 5 people and gained practical experience turning a business idea or social enterprise into a workable model, ready to pitch, all focused around the theme 'Hack for Happiness!' - to help unleash more joy and fun back into our world.

Across the weekend of 28-29 August, participants of the Hackathon gained:
practical knowledge and experience;
a chance to meet and work with fellow current and former students online;
advice from business specialists and mentors; 
feedback on their pitch in a supportive environment; and
an insight into entrepreneurship as a career. 
Teams competed across the weekend with the best 3 pitches taking out the top prizes.
Prize winners
1st prize: ToGather - $1,000 AUD, 5x Practera courses and1-year HEX world access
Solution: Reuniting communities through a web-based platform that allows people to share and explore new hobbies and passions online.
2nd prize: Growth Lab - $750 AUD and 1-year HEX world access
Solution: The 5 minute experiment app, to help people experiencing poor mental health by encouraging them to take action through quick, simple tasks. 
3rd prize: Vroom - $500 AUD and 1-year HEX world access
Solution: To improve the online learning experience with new video conferencing software that better emulates the classroom environment and improves engagement.
You can watch the pitch videos of all the finalists here. 
The Hackathon was run by Hacker Exchange (HEX), the Hackathon pros as a feature of the Future Founders Program, presented by Study Melbourne and StartSpace.
For a full wrap of the Hackathon you can read the blog piece here. 
Keep scrolling for more information about the Hackathon.
Find out what to expect
Hackathon How-To
Interested in participating in a Hackathon in future? Watch this Hackathon How-To video from the HEX team to understand more about what to expect and some of the benefits you get from joining in. 
Why join the Hackathon?
Highlights
Don't miss this opportunity to learn more about entrepreneurship. Here are some of the highlights of the Hackathon.
What to expect across the Hackathon weekend
Agenda
The agenda across the two days is designed to be accessible, flexible and supportive. The sessions include workshops, to dive into specific areas of learning to support your business model and presentation, mentor sessions to get advice and guidance along the way and drop-ins with experts and specialists to gain specific knowledge. 
The following is an example of the how a Hackathon weekend might be structured, with additional breaks. It is designed to be fun and flexible, so that your team can maximise your learning and project work schedule.
Hackathon Weekend Agenda - online [Example only]
Saturday
Morning
Industry Panel
Specialist drop-in session
Mentor Alley session
Workshops: Ideation / Market Research Workshop
Afternoon
Talk: How I won a Hackathon
Workshops: Ideation / Market Research Workshop
Mentor Alley
Specialist drop-in
Workshops: UX/UI / Low code/No code
Evening
Social activity
Mentors available for catch-up
Specialist drop-in
Workshops: UX/UI / Low code/No code
Sunday
Overnight
Morning
Briefing
Mentor Alley session
Specialist drop in session
Workshops: Business Models / Pitching & Public Speaking
Afternoon
Workshops: Business Models / Pitching & Public Speaking
Mentor Alley session
Specialist drop-in session
Workshops: Growth Hacking / Pitching & Public Speaking
Pitching – Round 1 of Judging
Evening
Pitching Round 2 of Judging
End of Hackathon celebration
Hackathon theme: Hack for Happiness
Despite the challenges that 2020-2021 have presented, we're still here and we've still got full lives to live!  So, for this Hackathon, the challenge was to HACK FOR HAPPINESS to help unleash more joy and fun back into our world.
What does this mean? Happiness can come in many forms:
Food
Music
Art
Wellness
Sex
Gaming
Sports
Animals
Family
Learning
and so much more...
The Hackathon challenges you to come up with a tech-enabled solution to enhance happiness for a particular segment of the community. This could mean you remove barriers, make something more accessible, or reimagine it completely!
Please note that all attendees were expected to comply with the Code of conduct. 
Your Hackathon hosts
Meet the team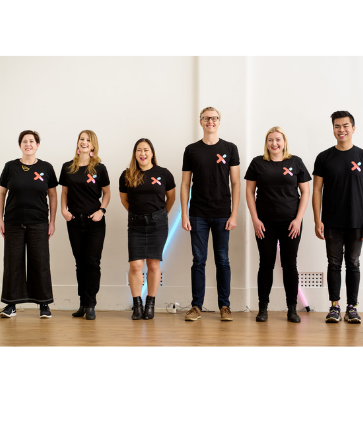 The HEX Team
HEX exists to launch epic careers and unlock captive talent. We're creating a generation of leaders who take action to create the world they want to live in.
4000+ students have loved our seriously fun virtual programs, study abroad experiences and hackathon-style events. And they leave HEX with amazing confidence, skills and networks — as well as university accreditation.
In 2021, HEX is a lean, diverse Australian-based team working around the world and around the clock.
We've run 40+ programs to San Francisco, Singapore, Tel Aviv, and Melbourne – and we didn't slow down when the borders closed. 
In 2020, we launched award-winning virtual internships, challenges and cohort-based programs. We even expanded our partnerships globally, and started working with incredible high-school students.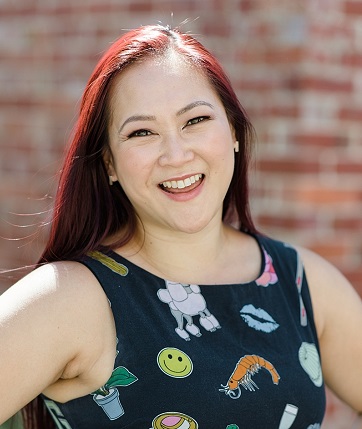 Jeanette Cheah
Co-Founder & CEO, Hacker Exchange (HEX)
Jeanette Cheah is co-founder and CEO of Hacker Exchange (HEX), a tertiary-accredited organisation connecting the next generation of startup founders to Silicon Valley, Tel Aviv, Singapore and beyond. Through HEX and her other projects, Jeanette is dedicated to helping young leaders grow as global citizens – developing entrepreneurship and innovation skills, and bridging the gap between academic curriculum and the future of work.
Before founding HEX, Jeanette spent 14 years building innovation, marketing and digital products for ANZ, AXA, AMP and Origin Energy. Jeanette holds qualifications in Economics, Sociology, Marketing and User Experience Design.
Presented by